A consulted marketing strategist, Mary has been quoted many times in the media. If you are a member of the media, you can contact her: mary@charleson.ca or mobile 604.720.5607
Mary has either written for or been covered by numerous national and local print publications as well as broadcast media. Link here to an archive of published articles.
Global News, Feb 4, 2017: We all live in a bubble. Here's why you should step out of it according to the experts. A Global News national interview where Mary shares her thoughts on social media, how we increasingly get our news through curated channels that match our existing views, rather then challenge them, and the importance of being exposed to views beyond our bubble.
CBC Radio One – The 180 –  Nov 10, 2016: Can't believe Trump Won? Get out of your social media bubble. In a national radio interview with Jim Brown, on CBC's The 180, Mary discusses the impact of social media on formulating opinions, and why the media and pollsters failed to see a Trump win in the US election.
Huffington Post Nov 2, 2016: Biased Election Coverage and Consumption Will Have Consequences. This editorial piece written by Mary was featured on the front page of the Huffington Post Canada the week prior to the US election. In it she warned of a Trump win and the contributing factors to the media's failure to see it coming: Media convergence and consolidation of ownership, social media profiling, and the race to report, smaller budgets and the role of influencers.
CBC Vancouver March 28, 2015: Future Shop closes across Canada. Mary Charleson is interviewed about the changing face of retail in Canada
On March 28, 2015 Future Shop announced they would close 66 stores immediately, and convert a further 65 to Best Buy. Marketing expert Mary Charleson notes that commercial electronics have become a commodity with increased price competition from online sales. While the loss of 500 full-time and 1,000 part-time jobs is regrettable, it made business sense she says. The mid 2000s saw an expansion of retail with big box stores, and we are now seeing a contraction and consolidation to compete more tightly with online options. In the future we are likely to see more strategically located stores dedicated to localized warehousing with retail fronts, to service pick up and same day delivery of online purchases across Canada. While the closure shakes out, malls where the retailer was an anchor, will no doubt see a decrease in traffic, an impact likely to effect all retailers in the area. The first Future Shop store opened in Vancouver in 1982. By 1990, it had become the largest retailer of consumer electronics in Canada. In 2001, Future Shop was purchased by Best Buy for $580 million.
North Shore News: April 1, 2015: Mary Charleson is interviewed for a feature article about the closure of Future Shop and the changing face of retail.
CBC Vancouver Dec 29, 2014: "Marketing Fails 2014" Rene Filiponne interviews marketing strategist, Mary Charleson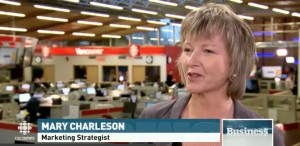 Mary Charleson adds a Vancouver spin to "Marketing Fails 2014" at the 2:39 minute mark. Interviewed by Renee Filippone, CBC Vancouver 5pm news anchor, on Dec 29, the spot features CBC National correspondent Dianne Buckner's take on the Apple/U2 album release fiasco, the Coors Light rescue box traffic snarl, Lenova's mispriced computer, Target inventory issues and Malaysia Airlines inappropriate bucket list contest after loosing two planes in 2014. Mary Charleson adds a local spin offering up public relations advice for messaging during a massive BC Transit failure, Lululemon being an easy target for sunscreen criticism on their mantra bag after the too sheer pant fiasco, and how Air Canada's #rouged sticky brand name trended on Twitter for all the wrong reasons.
Shaw TV November 1, 2012
Define your niche, have a competitive advantage. Celebrating Small Business Month in BC with Five-Minute Marketing author, Mary Charleson.
Business in Vancouver July 2, 2013 Small Business Report: Barre None
Small Business BC January 2, 2008 Business resolutions for '08: Experts say pay attention to women
Business in Vancouver Nominated for 2008 Influential Women in Business Awards.
Toronto Star August 8, 2007 Corporations discover their social conscience
Strategy Magazine May 2007 Brands that give back get back 
Channel M Feb 8 2007
Interview at Canadian Women in Communication presentation
Marketing Magazine May 1, 2006 Marketing to women starts with the in-store experience. By Eve Lazarus.
Marketline Magazine Spring 2006 Marketing to Women
Business in Vancouver August 2, 2005 Pimlico lands Playboy Denim line. By Andrew Petrozzi
Marketline Magazine Fall 2004 Branding
Marketline Magazine Spring 2004 Brand Building and Positioning
Business in Vancouver November 2002-present – Monthly Columnist